Corporate
---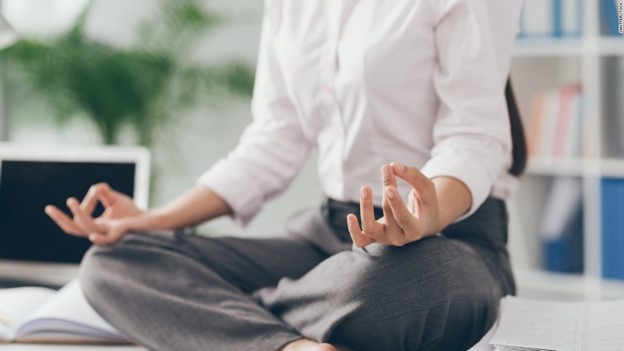 Yoga & Meditation For Corporates.

When you've at your desk for eight hours or more, your body suffers: tight hips and shoulders, a creaky neck and an aching back.
Leaving the office for an actual workout may not be feasible, but with a little yoga and meditation, you can reduce discomfort, relieve stress, increase energy and clear your mind – all in a day's work.

Add 'Yoga Studio LK' to your Employee Wellness Program.
Yoga at Work Place benefits:
– Helps to manage stress
– Improves the immune system and overall health
– Increases productivity, motivation, and work performance
– Improves decision making and creativity
– Increases energy, mental alertness, and clarity
– Improves stamina
– Improves morale, job satisfaction, and positive thinking patterns
– Improves memory, focus and concentration
– Reduces muscle tension and pain due to sedentary working positions
– Improves flexibility and physical strength
– Improves breathing
– Decreases headaches
– Improves confidence
---
Special corporate offers with discounted rates.

Call +94 (0) 76 615 5760 | Email indu@yogastudio.lk
---
"The session was so relaxing. Breathing practice, the way it was counted was so light and easy. I was able to concentrate without any distractions, I'd for sure come again on the layover in Sri Lanka next time"
Abiyo
Cabin Crew, Emirates, Dubai, UAE
"Best place for women yoga "
Sandu Perera
Kandana, Sri Lanka
"It was a great decision i took to join the yoga class and I'm really happy I did that. The yoga class was amazing and there's lots of benefits anyone can get joining the yoga class. I highly recommend this place."
Piyumi Desilva
Kandana, Sri Lanka
"Perfect place to begin yoga. You'll feel the difference in a matter of months and such a friendly environment as well. She'll even customize a routine according to your desires."
Christeen Saparamadu
Kandana, Sri Lanka
"I have been doing online yoga with Indu, gosh, I must say this lady is an angel. Her good work should be highlighted more… She teaches us with so much of love, care, empathy, and patience. Most women pay thumping amounts for a yoga class that does nothing but just few asanas. Indu does beyond her time and efforts. She's definitely puts in 100% of her energy, skills, effort and love to teach us with so much of patience and generosity. She is never money minded, only wants us ladies to do our yoga well for our goodness sake! She's definitely doing a great service for the wellbeing of our ladies; she's definitely deserves so much of recognition. I am definitely addicted to her yoga lessons. Simply loving this. Do a trial class and see the difference!!
Nazrat Ikram
Doha, Qatar
"Indu, Just wanted to say that it was nice meeting you. I enjoyed the class and really liked chatting with you afterwards. It's great that you're following your dreams and your goals rather than conforming to what society wants you to do. And I love your idea to build a women's community through yoga. Keep up the great work! Love :)"
Dr. Gail
Doctor, New York, USA
"Really enjoying the yoga classes. Very peaceful place and the teacher is so good."
Anon
Nagoda, Sri Lanka
"I thought yoga was boring. No way… Yoga has been amazingly inspiring. In ways of focusing, toning, fighting unhealthiness. I'm definitely a yoga person now and would recommend yoga to anyone. Undoubtedly the yoga classes are just amazing"
Caren Fernando
Kandana, Sri Lanka
"It was a random decision to join yoga. Yoga entered my life and gave me a lot of benefits through everything I did here. Honestly I am really happy that I joined the classes. I love every second. Yoga is the only thing that keeps me going. Yoga is definitely my thing now. I gained a lot of health tips and this is simply the best."
Chanduli
Kandana, Sri Lanka
"It's very light and easy for the patients to do even right after their chemo therapy.
They enjoyed every part of the session and was very attentive"
Ms. Herath
Relaxation Unit Head, Apeksha Cancer Hospital, Maharagama, Sri lanka
"She is the best yoga instructor and I love doing her classes."
Manjari Sumithraarachchi
Jaela, Sri Lanka
"Deciding to learn and practice Yoga was definitely a turning point of my life. Yoga taught me to slow down and to listen to my body. I am for ever grateful to Indu at Yoga Studio for being a patient teacher. She attends to each student and is deeply concerned about each individuals health conditions. It is a great place to start Yoga and to learn to connect. ✌ ❤️"
Natalie Samarasinghe
Kandana, Sri Lanka
"She makes sure that we are comfortable and reach towards the flexibility we can at each stage. Very kind in explaining the positions and the right meaning to it. I have personally learnt a lot from her and feel more active."
Thulasi Mohanram
Colombo 15, Sri Lanka
"Clear instructions are given. Proper explaination for the uses & benefits of asanas. Trainer is super punctual. It's a lovely experience to learn from Induja 💛"
Duwaraha Maheswaran
Kandana, Sri Lanka
"I've been attending Miss Induja's yoga class for more than 3 months now. I feel much active and relaxed everytime I attend the class. And the yoga poses have also helped me to maintain a healthy figure and healthy mind. I highly recommend you to attend her classes as it will change your life drastically because it'll help you get some time off to yourself."
Achsah Wickramasinghe
Jaela, Sri Lanka
"Indu has been exceptionally good in teaching the Yoga Asana in a slow pace until you actually get to it. Professional and would like to recommend to anyone who is interested in healthy lifestyle. I have been with her for 3 years and would definitely love to continue further."
Caren Fernando
Kandana, Sri Lanka
"My yoga experience has been phenomenal. 100% the credit goes to Ms Indu, she is such an experienced teacher. She understands each student's character and takes time in explaining the technique and also explains the benefits of doing each yoga pose. She also takes her time off from classes to explain if you have any difficulties. Most importantly she works on time. I'm indeed blessed to have a such a great teacher. Wishing her all the best. Taniyaa."
Taniyaa Tissera
Kandana, Sri Lanka
"Indu is a fantastic instructor, she makes you feel very at ease and comfortable in your own skin. I love that it's an all female class and the studio is very clean, hygienic plus well ventilated so that you are comfortable during the session. It's an amazing art, science behind yoga and Indu teaches and guides you about every move. I would love to go for her class daily if I could. I'd recommend it to all the ladies at any fitness level."
Louisa Fernandez
Kandana, Sri Lanka
---